PC7 - Nothing but perfect
The essential task of a signal tower is to attract attention in the industrial environment. This is exactly what the PC7 does like no other signal tower on the market.
What other signal towers achieve with high-performance modules, the PC7 from Auer Signal achieves with standard modules. This light intensity coupled with many additional features make the PC7 the best and most future-proof signal tower on the market.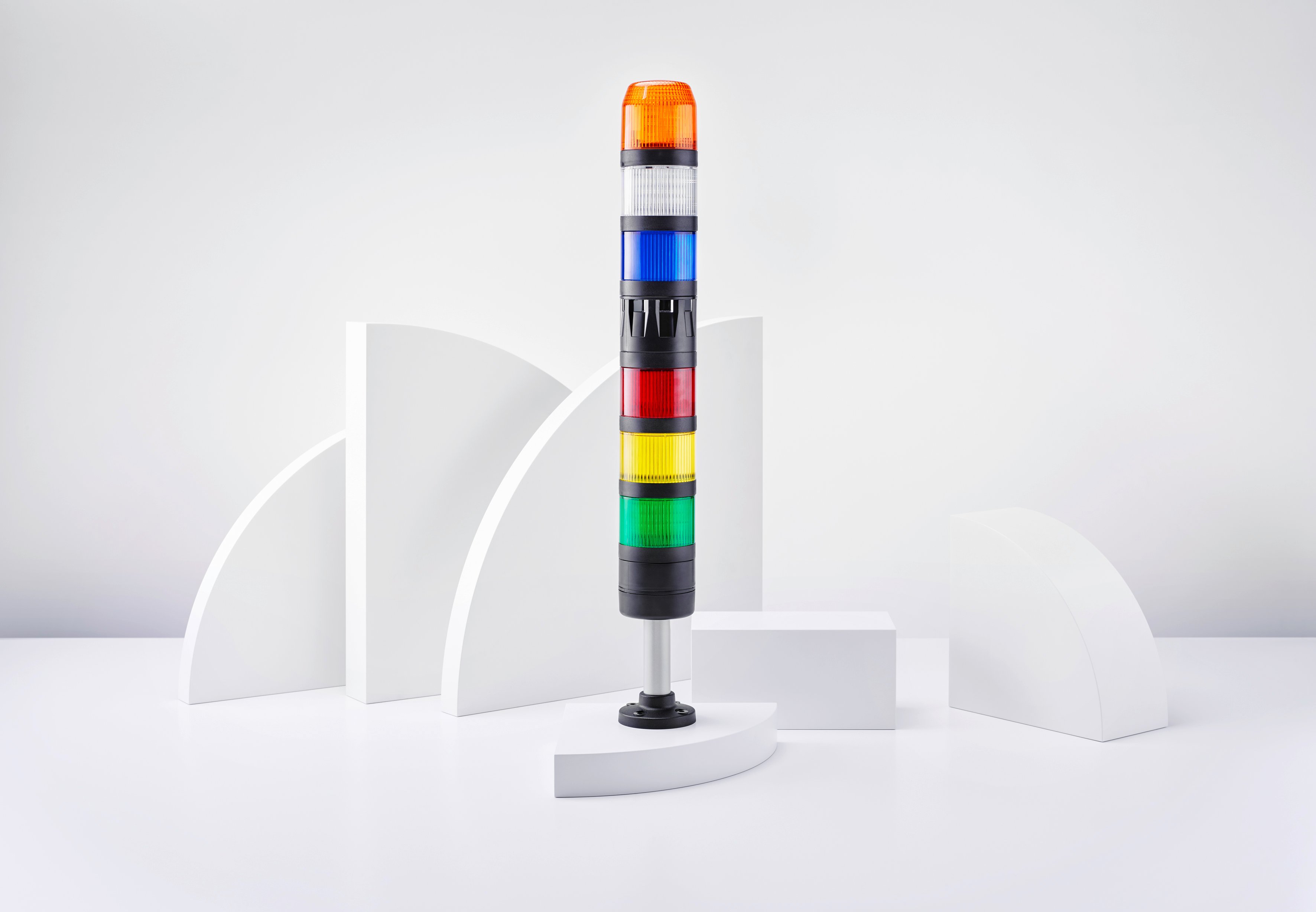 The perfect Light modules
The LED light modules of the PC7 convince not only with their luminosity but also with the range of available functions in different modules. The new top module completes the range perfectly.
| | | | |
| --- | --- | --- | --- |
| Multifunction | Rotating | Multicolour | Steady |
| The standard functions such as steady light, flashing light, strobe light as well as double strobe light in one module, selectable via DIP switches. | The first module for signal towers that simulates a rotating light. The selection of the rotation speed is selectable via the DIP switch. | The new multicolor module offers 7 different colors that can be controlled externally. 4 additional modules can be combined to one multicolor module. | The classic for standard applications: the steady light. |
Unique Top module
The new Top module is even brighter than the standard light modules. The Top module is characterized by the hemispherical signaling effect, the extended beam angle and twice the amount of light. If you combine the Top module with an inline sound module, you get your own audible / visual alarm with many signaling options.
The perfect Tone modules
We have not only revised and expanded the light modules but also the tone modules of the PC7, resulting in the new, unique inline multi-tone module. This module can be placed at any position of the signal tower.
| | | | |
| --- | --- | --- | --- |
| PC7ZI | PC7ZM | PC7TD | PC7VS |
| The new inline multi-tone module with max. 102 dB volume. 1 of 8 tones selectable via DIP switch. | The classic piezo tone module for mounting at the top position of the signal tower with max. 105 dB. | Electronic sounder module with transducer technology with 16 tone groups of 7 tones each. Max. 105 dB volume. | Up to 7 different voice messages and melodies can be played by the MP3 voice output module. |
One signal tower, multiple possibilities

Up to 7 positions can be realized with the PC7, this is enabled by the patented internal contacting system. This makes the PC7 the signal tower with the most possibilities of combinations.
Download your 3D model now!

3D models support you to plan and design your specific application. Our STEP files have a format of STP AP214 and are suitable for all common CAD programs.