Series R - the LED Design Powerhouse
We proudly present our new modular LED beacon series R. The series R is the brightest LED signal beacon in its category. It is available as a High Performance model and impresses with incredible functional diversity.
Its beacons are available in two lens designs and performance classes and can be combined with an optional audible base*.

The series R is available as steady beacon, multifunction beacon and multi color beacon. Both the high and low lens can be combined with the available bases. The series R thus stands for maximum modularity and functionality.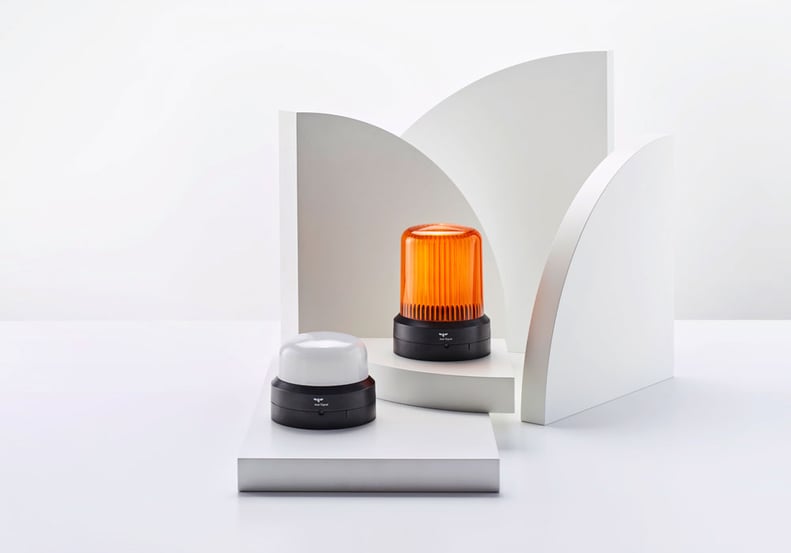 *Audible base currently not available
"With our new series R we have succeeded in creating a new standard in signaling technology in terms of brightness, design and functional diversity" comments Christian Auer, Managing Director of Auer Signal.
The brightest LED beacon in its category
The series R is the brightest LED beacon in its category. In direct comparison with competing products, the R series is up to seven times brighter. Both the High Performance and the Standard version achieve superior light intensity and the highest performance level on the market. When it comes to safety and maximum signaling effect, the R series sets new standards.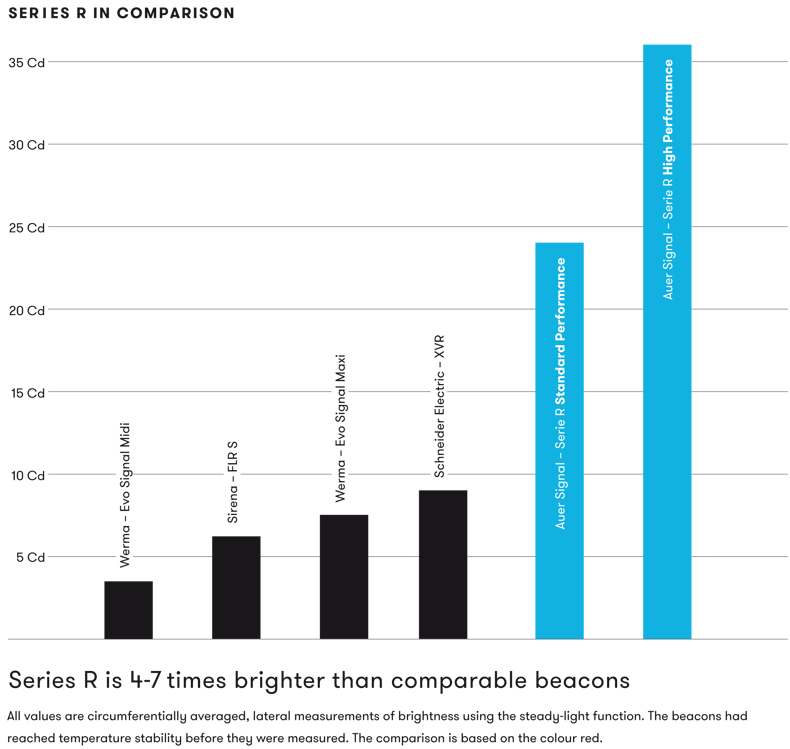 Unique design language
The high lens model with a diameter of 110 mm is designed for maximum lateral signaling effect and is available in two performance classes. The lens of the compact model has a translucent design and provides a beautiful, homogeneous luminous signaling effect. It is especially suitable for indoor use and scores with its beautiful product design and many lighting functions.
Two performance levels
Historically, the size of a lens was an indicator of the luminosity. The reason for this was that a luminaire with higher luminosity needed a larger lens to avoid overheating. Although LED technology breaks this logic due to minimal heat generation, manufacturers still produce beacon series in different sizes to represent different brightness levels.

We, at Auer Signal, take a different approach and offer only one diameter with the series R, but in two performance classes. The High Performance models are equipped with 12 x 6 LEDs, the standard version with 6 x 6 LEDs. Both models are brighter than comparable products and thus ensure maximum safety.


Series R replaces series M
The new series R covers all functions of the series M beacons and even offers more functionality and compatibility. The series M is expected to be available until the end of 2020, when it will be completely replaced by series R beacons.

The new series R is much more energy efficient than the series M. The CO2 consumption of the series R beacons is reduced by up to 70% with significantly better luminosity.