P Series: New multifunction beacon with M12 connector
Our P Series - the Tough - now includes the new multifunction beacon PDMC5 with integrated M12 connector. The new model complements the existing P Series product range of pre-wired and impact-resistant beacons (IK08, IP67 & IP69).

PDMC5: Plug & Play
With its M12 5-pin connector, the new PDMC5 multifunction beacon enables a very easy, simple, and fast plug & play installation. Compared to the pre-wired P Series models, the installation effort for this specific model is significantly lower. The simple mounting with M12 connector prevents installation mistakes and the high degree of protection IP69 is maintained.
The multifunction beacon with a diameter of 75mm combines the functions steady, flashing, strobe, and rotating light in just one product. All light patterns can be switched externally.

PDMC5 FEATURES:
Integrated 5-pin M12 connector: Plug & Play
High degree of protection IP67 & IP69
4 lightning functions: steady, flashing,
strobe (6-times), rotating light

Light patterns externally switchable
see product page
Auer Signal's P Series - the Tough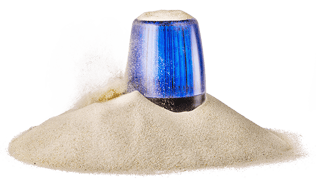 The P Series from Auer Signal is designed for applications in extreme environments such as dust, ice, rain, or heat. The high degree of protection IP67 and IP69 meets these requirements and ensures safety and a reliable warning, even in the harshest conditions.
Except for the new PDMC5, all P Series models are available in high and low lens versions, pre-wired and ready to mount with pre-mounted stainless steel screws. The product P Series includes LED multi strobe beacons, steady/flashing beacons and multi color beacons as well as xenon strobe beacons.
P Series with M12 connector





PDMC5 LED multifunction beacon

P Series with high lens





PFH LED multi strobe beacon
PCH LED steady/flashing beacon
PMH LED 3 color beacon
PXH xenon strobe beacon

P Series with low lens





PFL LED multi strobe beacon
PCL LED steady/flashing beacon
PXL xenon strobe beacon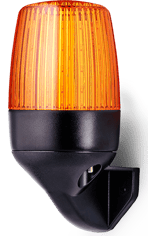 The high and low lens models also have other mounting options in addition to regular surface mounting:
PMR tube mounting (100mm & 250mm) and
XWR bracket for vertical mounting of tube bases
PVW bracket for vertical mounting
HIGH DEGREE OF PROTECTION IP67 & IP69
All P Series beacons comply with the degree of protection IP67 and IP69. Depending on the installation, IP69 is maintained. With an open mounting method using e.g. a bracket an IP rating of IP69 can be reached. Using the provided flat gasket for surface mount such as tube mounting (accessory PMR) or bracket mount (accessory PVW) an IP rating of IP66 and IP67 is achievable.
Further M12 signaling devices
The PDMC5 is Auer Signal's first single beacon with integrated M12 connector. Additionally, we offer M12 bases for our signal towers Modul-Perfect 70, Modul-Compete 50, Eco-Modul 40 and Eco-Modul 60.
PC7MC5 & PC7MC8
M12 base for signal tower PC7
available with 5- or 8-pins

CT5MC5
M12 base for signal tower CT5
available with 5-pins

YMC
Horizontal base with 5-Pin M12 connector


ZMC
Horizontal base with 5-Pin M12 connector