Auer Signal awarded EcoVadis Bronze medal
The EcoVadis Bronze award marks another step towards sustainability and social responsibility for Auer Signal.
Sustainability and social responsibility are of great importance to companies around the world today. Customers, stakeholders and employees increasingly prioritize ethical and environmentally friendly practices from businesses.

In this context, Auer Signal recently achieved a significant milestone in its sustainability efforts by being awarded the EcoVadis Bronze medal. This prestigious award recognizes companies for their dedication to environmental stewardship, ethical labor practices, and responsible business conduct. Auer Signal's receipt of this accolade demonstrates its commitment to achieving its sustainability goals.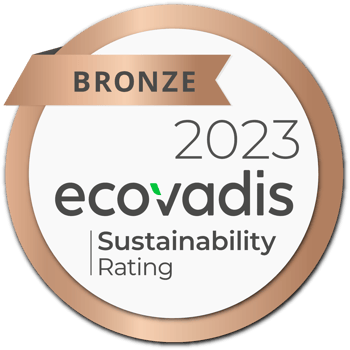 "The EcoVadis award is not only a great honor, but also an encouragement to continue driving our sustainability efforts. We have set ourselves ambitious goals and want to continue our commitment to a sustainable future."
Christian Auer, CEO Auer Signal
As part of their sustainability initiatives, Auer Signal aims to develop even more environmentally friendly products, reduce energy and resource consumption during production, and enhance social responsibility throughout their supply chain. The company firmly believes that sustainability and profitability can coexist and that, as an industry pioneer, they can drive positive change.
About EcoVadis
EcoVadis is a globally recognized organization which provides sustainability ratings for companies. Their rating system is based on internationally recognized standards, such as the Global Reporting Initiative and ISO 26000, and includes various sustainability criteria such as environment, labor practices, human rights and fair business practices. The EcoVadis medal is a distinguished award that acknowledges a company's commitment to sustainability and social responsibility. Additionally, it acts as a valuable resource for customers and stakeholders seeking to support sustainable businesses.